Kitchen Cabinets
Kitchen
Kitchen cabinets say a lot about you and your style. Builders Surplus works with several major kitchen cabinet manufacturers.
Creating a kitchen that is uniquely your own can be overwhelming. Our experienced staff can walk you through the options for your kitchen cabinets, to help you choose the cabinetry that's right for you.
The construction, door style, color, and material of your kitchen cabinets make a strong visual statement. Since cabinetry is such a large portion of the average kitchen or bath project budget, understanding all the options is critical. We can help.
Some solid wood kitchen cabinet options to consider:
Wood type (maple, oak)

Door style (recessed panel, raised panel, beaded, arched panel, square panel, etc.)

Finish (white, neutrals, wood stains, black, etc.)
In addition to kitchen cabinets, we also stock cabinet hardware. Call us at 410-287-7040 or come visit us to check out our inventory before you go anywhere else. Delivery service is available.
---
CABINETS (IN-STOCK)
Regal OAK WOOD

STYLE | FEATURES:

All wood cabinetry
Raised door panels
Wood drawer boxes
Plywood sides, shelves & cabinet bases

SPECIFICATIONS:

| | |
| --- | --- |
| Wood Species | White Oak |
| Face Frame | 3/4″ Solid Oak |
| Door & DR Front | 3/4″ Veneer Oak |
| Door Style | Cathedral Raised |
| Overlay | Half |
| Side & Top/Bottom | 1/2″ Plywood |
| Back Panel | 1/8″ + 3/8″ Edge-round Plywood |
| Shelves | 5/8″ Plywood |
| Hinges | Exposed |
| Drawer Box | 1/2″ Plywood |
| Drawer Glides | Side Mount |

NEWPORT WHITE

STYLE | FEATURES:

All wood cabinetry
Raised panel doors
Wood drawer boxes
Plywood sides, shelves & cabinet bases

SPECIFICATIONS:

| | |
| --- | --- |
| Wood Species | American Maple |
| Face Frame | 3/4″ Solid American Maple |
| Door & DR Front | 3/4″ Solid American Maple |
| Door Style | Applied Moulding |
| Overlay | Full |
| Side & Top/Bottom | 1/2″ Plywood |
| Back Panel | 1/2′ Plywood |
| Shelves | 3/4″ Plywood |
| Hinges | 6-way Adjustable Concealed |
| Drawer Box | 5/8″ Solid Wood Dovetail |
| Drawer Glides | Full Extension Soft Close |

WALL CABINETS – Regal Oak

WALL CABINETS – White

 W0930
$59.00
 W0930
$71.00
 W1230
$69.00
W1230
 $81.00
W1530
$75.00
W1530
$93.00
W1830
$87.00
 W1830
$105.00
W2130
$91.00
 W2130
$118.00
W2430
$106.00
 W2430
$134.00
W2730
$116.00
 W2730
$148.00
W3030
$117.00
 W3030
$161.00
W3330
$124.00
 W3330
$174.00
W3630
$133.00
 W3630
 $184.00
W4230
$137.00
W4230
N/A
WBC2730
$116.00
WBC2730
$136.00
WDC2430
$130.00
WDC2430
$174.00
W3012
$63.00
W3012
 $86.00
W3312
$75.00
W3312
N/A
W3612
$78.00
W3612
$98.00
W2415
$69.00
W2415
$74.00
W3015
$75.00
W3015
$88.00
W3315
$82.00
W3315
$100.00
W3615
$82.00
W3615
$103.00
W2418
 $63.00
W2418
N/A
W3018
$78.00
 W3018
$103.00
W3318
$91.00
W3318
N/A
W3618
 $93.00
W3618
$121.00

BASE CABINETS

BASE CABINETS

 B09
$75.00
B09
$105.00
B12
$83.00
 B12
$125.00
B15
$85.00
 B15
$136.00
B18
$93.00
  B18
$152.00
B21
$105.00
 B21
$162.00
B24
$115.00
 B24
 $181.00
B27
$129.00
 B27
$196.00
B30
$138.00
 B30
$207.00
B33
$145.00
 B33
$243.00
B36
$153.00
 B36
$256.00
BBC42-45
$150.00
 BBC42-45
$217.00
DB15
$135.00
 DB15
$218.00
DB18
$138.00
 DB18
$235.00
DB21
$143.00
 DB21
$247.00
DB24
$146.00
 DB24
$265.00
DB30
$150.00
 DB30
$298.00
SB30
$132.00
SB30
$155.00
SB33
$137.00
 SB33
$165.00
SB36
$141.00
 SB36
$174.00
DCB3612
$265.00
  DCB3612
$350.00

 WALL PANTRIES (OAK)

  WALL PANTRIES (NEWPORT WHITE)

WP1884
$269.00
WP1884
 $335.00
 WP2484
$359.00
 WP2484
 $430.00
KITCHEN CABINETS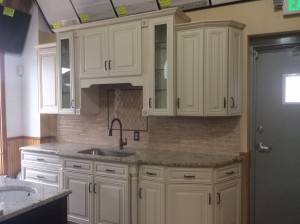 VANILLA CREME
| | | | | |
| --- | --- | --- | --- | --- |
| CINNAMON MAPLE | MAHOGANY MAPLE |  CREME MAPLE GLAZED | WHITE MAPLE | ESPRESSO MAPLE |